Back again after a 3-year hiatus…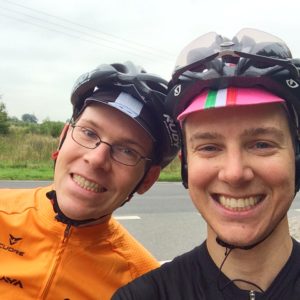 AIDS/LifeCycle is a 545-mile bike ride (because planes are so 2017) from San Francisco to Los Angeles to raise funds for the life-saving services offered by the San Francisco AIDS Foundation and the Los Angeles LGBT Center. The services provided as a result of this event mean the world to those who receive them.
We joined our first AIDS/LifeCycle ride back in June 2013 and were immediately convinced this was a cause worth fighting for. Unlike many others these days, this also felt like an attainable one in our lifetime. Shortly after finishing that first ride, with our bike gloves still on, we were signing up to do it all over again in 2014. A move to Germany and back meant we unfortunately missed the next 3 years. With all the negativity in the news these days, this felt like a small token we could do to help make the world a better place.
Thank you for your support in that endeavor.
<3,
Yoann & Brian